This year marks the 3rd year in a row that I've run the Eve Carson 5k for Education. Most know of Eve Carson. For those that don't, she was a student at UNC Chapel Hill. She was the student body president and a senior.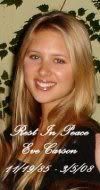 Eve was the victim of a senseless murder on March 5, 2008. Her death was a horrible tragedy. It really makes me sad to think of the things she went through in the last hours of her life. The two men who committed the crime were caught. One is serving a life sentences without parole and the other man's trial began this week.
UNC organizes a 5k in her honor each year. I love that her memory has not been forgotten. To be apart of something that remembers her is a really great feeling!
This year I ran the race with my friend Tom.
Tom--before the race
ME--excited to run!
We both set personal goals for the race. He wanted to finish the run in less than 20 minutes and I wanted to run the race in under 28. Tom and I both met our fitness goals! I finished the race in 27:34. :) Sweeeeeeet!!!! :) :) :)